We're very used to central heating that responds fast when we turn up the temperature. We like our rooms to heat up on demand. With underfloor heating running on cooler water, things are a little different.
Underfloor heating uses water of much lower temperatures than a conventional central heating system. High temperature heating systems run at about 70 degrees C. The water in underfloor heating and low temperature radiators can be as cool as 40 degrees C.
Also, our underfloor heating pipes will be encased in about 20 cm of concrete. It will take a long time for the central heating system to heat up all that concrete and warm up the rooms.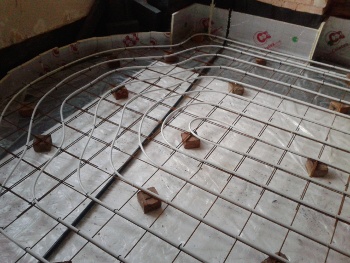 That's part of the point, though. The concrete is a solid thermal mass that will hold on to the heat even when the underfloor heating isn't on. That means the house will maintain a relatively stable temperature throughout the day and night.
Our heating system won't be very responsive. If we want to warm up quickly, we'll need to use our wood burning stove. If we want to cool down, we'll need to open a window.
The advantage is that it doesn't take much energy to maintain an even temperature when a lot of heat is stored in the fabric of the house. We'll be able to keep warm on very little – hopefully just thermal solar topped up with a small amount of wood in winter.
Our heating and hot water will be completely carbon neutral. And that is just very cool.