Insulation is the main ingredient in our efforts to minimise Westacre's carbon footprint. If we can retain as much heat as possible within the house, we may not have to heat it at all. To get there, we need to insulate thoroughly, including above the ceilings in the loft and below the concrete floor.
We are adding a substantial layer of concrete to the floors downstairs. They will function as a heat store, helping to keep the house warm and the temperature even.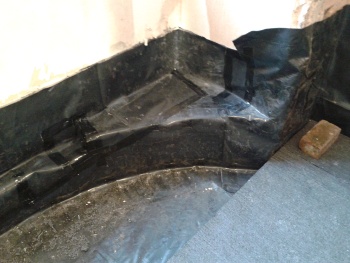 Of course, if you want your concrete floor to be a heat store, it needs to be insulated from the actual cold and damp earth. Consequently, we have to install a lasagne of insulation layers under the floor. When all of it is done, it will look something like this:
The starting layer is the site concrete. In the part of the house we are working on, that's nearly 90 years old now, and very lumpy. We had to even it out with sand to protect the first layer of our lasagne.
First of all, we put down sturdy black plastic as a damp proof layer. It is glued to the actual damp proof course of the house. And of course, it's important this is not perforated anywhere. Hence the sand.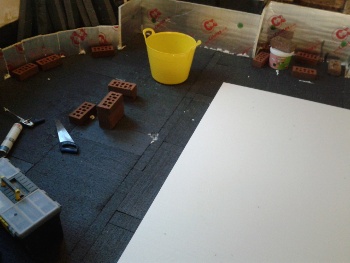 On top of the plastic are three layers of polystyrene, to a total of about 22cm. All of that is edged with thin Celotex insulation boards going a bit higher up the walls. It's all been foamed in at the edges to keep everything in place.
Next comes another layer of clear plastic for protection.
The concrete layer is next. But we're adding a few more features to that.
A lot of electrical and date wiring will run through conduits under the concrete. And we are putting in the pipes for an underfloor heating system. As we don't know how much heating we're going to need, we intend to be prepared for everything.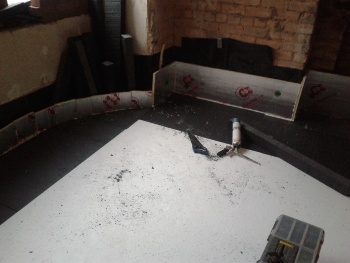 So, on top of the insulation, raised on some bricks, we will be placing a mesh of concrete reinforcement bar (rebar). The underfloor heating pipes are coiled on top of that.
And then we order in the cement lorry. When that day comes, I'll be sure to get the video camera out. We are hoping for a concrete layer of about 15cm.
The whole thing is levelled off with screed, and eventually we'll tile on top.
We are investing in staying warm for the long run. When the renovation is finished, we hope to only have to use the underfloor heating on very cold days. It will be fuelled by solar hot water panels, backed up by a back boiler on our wood stove. We'll only know how well that has worked when the whole project is finished and we're living in it.