At this crucial time in our planet's history, every human being is called to be a warrior.
If we are to preserve some of the riches of our planet, even at the much depleted level it is now, we need to stand up for the flourishing of all beings. In the face of the Industrial Growth Society's destruction, we need to weave a new world.
As pagans and practitioners of earth-based spiritualities, we have a special reverence for the Mother Earth, and a duty to protect her from harm. We need to be part of, or better still, leaders of, the movement to create a future where everyone can thrive.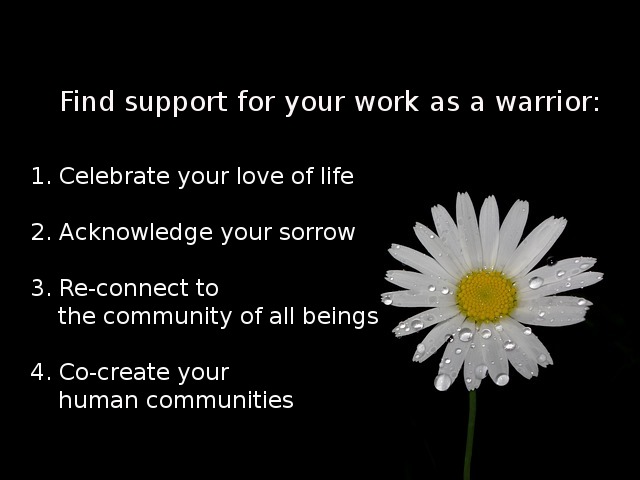 We find the support we need to do this work in four different ways:
1. Celebrate our love
Our love for the wonders of this world is our great strength. We need to nurture and grow that love, using it to make the magical connections that will sustain us.
By making love to life as it presents itself to us day by day, we become rooted in the joy of living. And that joy is what we are here for, alive as humans on this blue planet.
2. Acknowledge our sorrow
Each of us, whether we are aware of it or not, feels the sorrow for the plight of our world. This is totally natural. After all, we are part of it. We feel what it feels.
In order to survive the damage our civilisation is doing, we need to look at that sorrow and find ways to work with it.
3. Re-connect to the community of all beings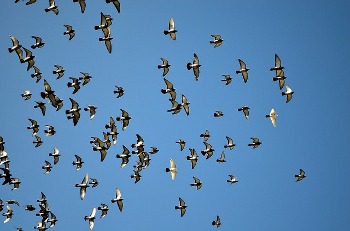 Celebrating our joy and our sorrow of being alive, we naturally become aware of who we truly are. We are part of the great community of life. We are connected to the Earth by a million million threads. All we have and all that we are comes from the Earth. We are not alone.
This realisation can be transformational. As we begin to notice all the riches that returns to us through our magical connections with the more-than-human world, our lives take on a deeper meaning.
4. Co-create human communities
Supported by the greater community of life, we begin to pay more attention to the human communities we are part of. Alone, we may feel overwhelmed and powerless against the many challenges our world presents us with. But together we are powerful.
Together, in loving communities of friends and neighbours, we can do this. We stand together for the flourishing of all beings.
Supported in those four ways, we are strong enough to become the warriors our world needs.
I am committed to celebrating my joy and acknowledging my sorrow. I am committed to making community with humans and the more-than-human world. For the good of all beings.
Will you make this magic with me?
The Westacre Spiritual Centre is developing courses, resources and experiences to help you find the tools and practices you need to support you as a warrior for the flourishing of all beings.
To get you started, I have made a collection of resources, from Westacre and from across the world wide web.
For the foreseeable future, I will be concentrating on our own positive action for the good of the Living Earth. My husband and I are creating a home and a lifestyle that will dramatically reduce our carbon footprint.
Meanwhile, I will offer
When our building project is complete, we will also develop face-to-face courses and residential retreats.
Please visit often for news on our renovation project, inspiration making magical connections, and new course offers.
Westacre's teachings owe a lot to my teachers, as authors, in person and in spirit. In rough chronological order, I acknowledge:
Jennifer Louden, author of The Woman's Comfort Book.
Matthew Fox, author of Original Blessing.
Caitlin Matthews, teacher of shamanic healing practices.
Oriah Mountain Dreamer, author of The Invitation.
OBOD, the Order of Bards, Ovates and Druids, and its Bardic and Ovate Grade courses.
Emma Restall-Orr, teacher of the Living Druidry course.
Joanna Macy's Work that Reconnects.
The Lady, Dancer of the Stars, Mother of Living and Dying.
The Guardians of my Grove.
The spirits of place of my Harrow garden, Stanmore Common, and Westacre.